Frip Finishing's print production facility in Manchester has now gained the high hygiene, Double A BRC accreditation.  When Frip Finishing achieved this highly acclaimed food industry standard at its Hinckley operation in 2017, it was the first decorative print finisher in the UK to gain accreditation, and earlier this year the company's facilities in Scotland and Redditch were similarly accredited.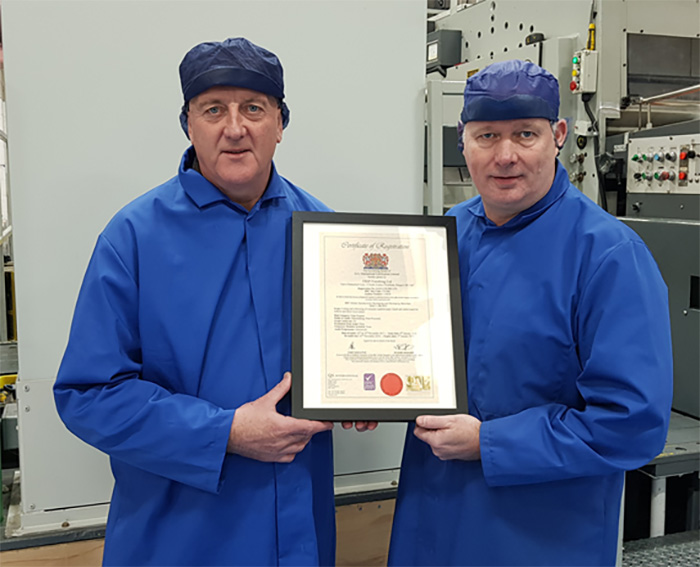 Leslie Gibson, Group Managing Director (left) with Alan Mortimer, Northern Regional Manager
BRC [British Retail Consortium] accreditation requires documented approval to ensure food quality and safety. The standard was published by the union of British supermarkets, requiring all companies involved in the entire food supply chain to meet its exacting requirements. It has become the global standard for food safety in over 100 countries and is one of the key elements of Frip's business growth strategy in the UK food supply chain.
After months of hard work, Group Managing Director Leslie Gibson is delighted to have achieved this prestigious award at four of Frip Finishing's plants.  He commented:
"We set a demanding timetable for achieving these accreditations and it is a tremendous achievement to gain four sites with accreditation within a year. Frip Finishing is still the only decorative print finisher in the UK with this accreditation which covers all of our specialist lamination and hot foil stamping processes."
He added: "Our customers in the food sector need printed food cartons with an  assured level of safety and  hygiene, and which have consumer 'eye appeal'. Over the past year Frip Finishing has processed over 50 million sheets of B1 size and above for the food sector.  BRC accreditation is seen as a key foundation in the company's strategy to meeting stringent customer requirements."
Leslie Gibson goes on to say: "BRC has had a positive impact on the Group by providing a focus for achieving high professional standards in the way that we conduct our business. The competitive nature of the print finishing sector requires that we give our customers reasons to use us rather than a competitor. This is just one of the routes by which we seek to give our customers added value."
Alan Mortimer (Northern Regional Manager) endorses Leslie's views, saying:"BRC has led to improved standards across all functions of our business which have been very well received by our staff and customer base. The investment and commitment required to achieve this standard demonstrates the Group's intention to remain the market leader in our sector.
Malc Griffin (Group Systems Manager) comments "The standards required for BRC have been well received by our staff members, who have been fully engaged in the process from the outset, recognising the changing nature of our Industry and the opportunity that the food sector provides."
The adoption of BRC across the Group represents an investment of over £200,000 and as the leading provider of laminations and hot foil stamping services to the packaging industry FRIP Finishing continues to set standards for the sector.