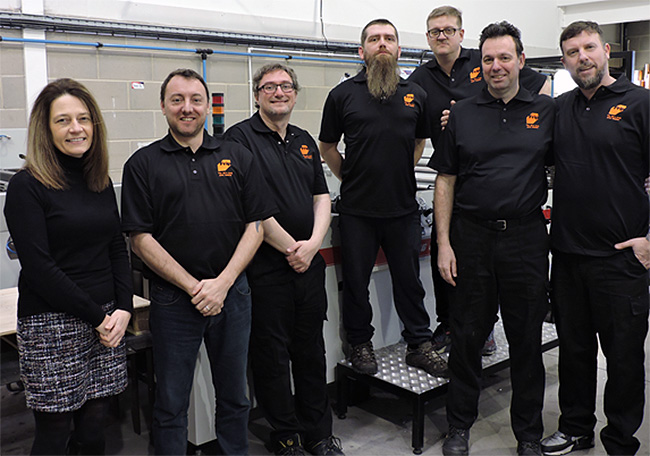 General Manager of the new Frip Finishing facility, Annie Dixon, with the Redhill team
The relocation of Frip Finishing's London site from Croydon to Redhill in February 2014 has led to a significant upturn in the fortunes of the operation; Frip Finishing is one of the UK's leading providers of decorative and functional finishing to the print and packaging markets.
The move was initiated by the ending of the company's lease on the premises in Croydon, but 'being inside the M25 was limiting our ability to grow and service the market', Managing Director Leslie Gibson explained. He went on to comment on the general diminution of the print market, and the need to be closer to the company's client base. The move has also enabled Frip Finishing to widen its appeal to the packaging and point of sale markets.
The Redhill facility has seen significant investment, and is able to provide foiling and embossing services using a range of equipment including cylinders and a Bobst 102 foiling and embossing press. In April 2016, a new Compact76 Eco-Systems laminator capable of handling sheets up to a B1 size was installed at a cost of £130,000.
"This laminator allows the company to service both the commercial print markets and the packaging markets for film barrier protection," says Leslie Gibson. "Frip Finishing is the largest sheet-fed supplier of film barrier lamination services to the UK market and we wanted to be able to offer this service to our customers in the south."
The 5,000 sq ft factory has added to its staff since relocation; Michael Donovan who joined in January 2017 has been appointed as Production Controller for the site, and two new operators since relocation will be joined by the recruitment of a further two hot foil stamping operators to support growth. Whilst sales to the commercial print market declined in the two years prior to relocation, since the move to Redhill, sales have increased by over 30%, now resulting in plans to extend shift patterns to a double day shift to accommodate demand.
Redhill General Manager Annie Dixon is really looking forward to the future: "We have a great team here in Redhill with lots of experience, and the signs are already evident that 2017 is going to be another strong and exciting year."
For further information, contact:
Nigel Tompkins
PR & Marketing Consultant
T: 01263 822427
M : 07860 206565
E : nigel@ni4b.co.uk