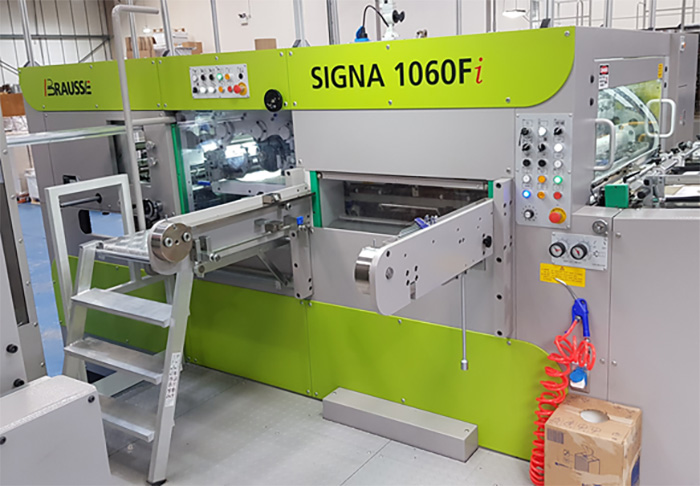 Brausse 1060Fi hot foiling and embossing press
Hinckley, Leicestershire: FRIP Finishing has invested in a new Brausse 1060Fi hot foiling and embossing press at its Hinckley site, while at the same time, fully reconditioning an existing Bobst 102 Bma foilmaster and relocating it from FRIP Hinckley to FRIP Stockport.
The investment in both totals over £550,000 and is expected to increase hot foiling capacity by 40% across the two sites.
Leslie Gibson, Group Managing Director says: "The investment was primarily driven by the need to meet customer demand and to improve productivity particularly in the 1060mm sheet size.  Up to present, we have sought to service this sheet size using much slower Bobst 1260mm sheet presses. The Brausse will give us more flexibility and options which should reflect in the speed of service to our customers.
"The relocation of the BMA 102 foilmaster essentially doubles the capacity within our Stockport site, giving significant productivity improvements over that of our existing Bobst 126."
Dave Stanyard, General Manager FRIP Hinckley adds: "I am excited by the opportunities that the new Brausse gives.  It has been highly specified in terms of safety systems and it also features a vacuum delivery system and pre-set up die changing table.  With a top speed of 7500 SPH it will be a game changer for us as we continue to set standards for our industry."
FRIP Finishing is the leading provider of decorative print finishing and specialist lamination services to the UK packaging industry, with five UK manufacturing sites serving a growing number of national and regional businesses.