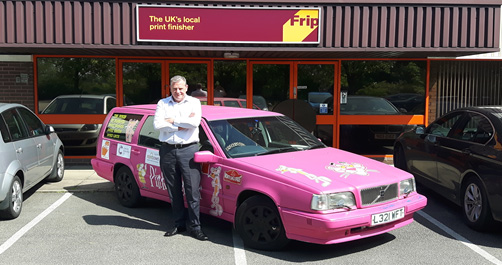 Shaun Morris with his 'Pink Panther' car

Hinckley, Leicestershire: Frip Finishing, the leading provider of decorative print finishing and specialist laminate services to the UK packaging industry, is sponsoring a team taking part in the 2017 Champagne Charlie Monte Carlo or Bust Rally.
Shaun Morris, Frip Finishing's Sales Director is leading a team of 3 raising money for Cancer Research and local charity The Rainbows Children's Hospice in Loughborough.
This year's rally takes place 15 – 18 June; it starts in the beautiful Roman city of St.Quentin, France and the finish line is on the Formula One racing circuit in Monte Carlo.
Teams experience some of Europe's best driving. They'll burn rubber and brakes into Switzerland, around the magnificent Lake Geneva; conquer the Alps over the mighty Grand St. Bernard Pass, going from sunny streets to snow-capped mountains in minutes as they climb one of the driving wonders of the world before cruising down the mountains into Turin, Italy.
From Turin, teams wind through the magnificent countryside and head for the sea, meeting up with the E80 coast road to cruise back across the border into France. A few more mountain turns and the finish line in Monte Carlo is in sight.
 The event is always themed with all entrants having to 'dress' for the occasion.  Shaun and his team have chosen 'The Pink Panther' and will be competing in a 1992 Volvo Estate painted bright pink, and the team will all be wearing appropriate costumes!
"As a company, Frip Finishing is happy to support local charities whenever possible, and I was pleased when Shaun approached me with the idea of raising money for these two organisations. I'm looking forward to hearing about his journey on his return," said Managing Director Leslie Gibson.
To sponsor Shaun and his team visit www.justgiving.com/dukes-of-burbage