An investment of over £250,000 by Frip Finishing in a Brausse Forza C6 carton folder-gluer machine at its Redditch production facility further extends the range of services available to its growing base of customers.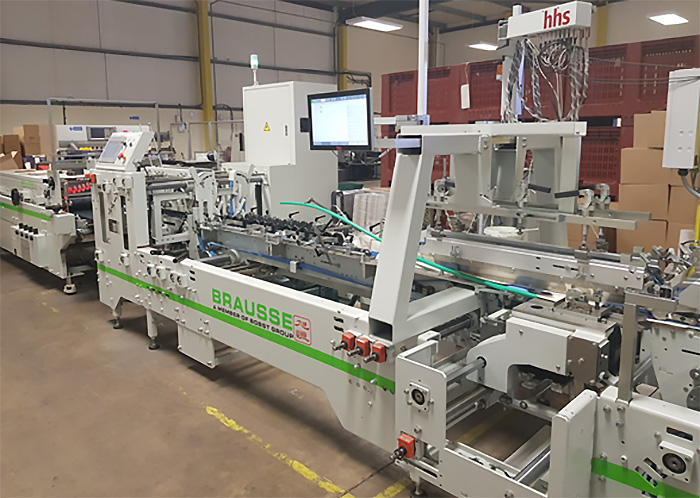 The Brausse Forza C6 carton folder-gluer at Frip Finishing in Redditch
"The installation of this folder-gluer machine is an important development for our carton services business," said Group Sales Director Shaun Morris.
"We are already the supplier of preferred choice for many manufacturers wanting a carton windows solution for their product packaging, and the addition of a carton folding and gluing process enables us to provide a complete finishing service. We can now take a printed sheet through lamination and hot foil stamping, die cutting and then onwards through windowing to final folding and glueing."
The Brausse Forza C6 can accept board sizes of up to 900 x 800mm and up to 800gsm, and has the capability to handle bottom lock and 4 and 6 corner collapsible cartons. The glue system incorporates both cold adhesive as well as hot melt adhesive.
Shaun Morris continued: "Our ability to deliver folded and glued cartons now allows us to offer the complete print finishing process to our customers, thereby providing them with a faster service and reducing handling and transportation time and cost within their packaging supply chains."
Frip Finishing is the leading provider of decorative print finishing and specialist lamination services to the UK packaging industry, and in the last nine months the company has invested in excess of one million pounds in pick and place window technology, hot foil stamping and carton folding and gluing equipment.
In August 2017, Frip Finishing achieved the high hygiene AA BRC Accreditation for food quality and safety at its Hinckley production facility, becoming the first decorative printer in the UK to gain such accreditation. Since then, the company's facilities in Glasgow, Manchester and Redditch have also gained this Accreditation, involving a total investment of over £200,000.